July 16, 2021 |
By Bonnijean Cooney Adams | Posted in: Entertainment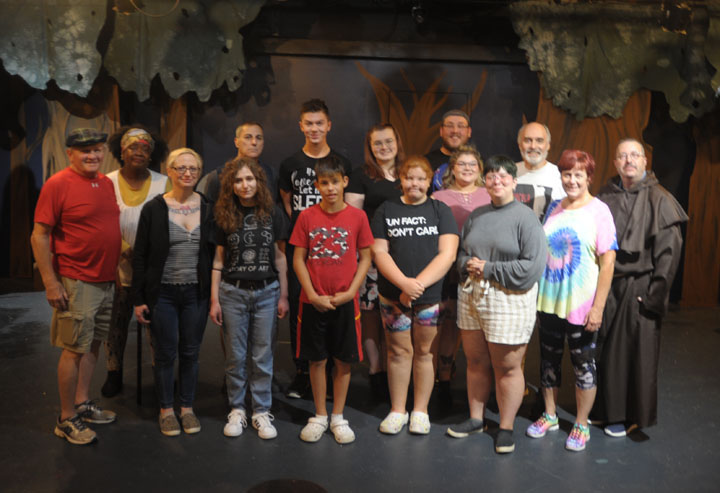 "Dracula, a Musical" cast members gather on the McKeesport Little Theater stage during a rehearsal break. The show, which made its debut on the same stage in 1993, opens today. (Bonnijean Cooney Adams photo for Tube City Almanac)
If you go...

"Dracula, A Musical"

Where: McKeesport Little Theater, 1614 Coursin St.

When: July 16, 17, 18, 23, 24, 25, with Friday and Saturday shows at 7:30 p.m. and Sunday matinees at 2 p.m.

Tickets: $20 for adults and $12 for students with a valid ID or under 18. To make reservations, call the theater at (412) 673-1100 and leave your name, phone number, the date of the performance you wish to see, and how many tickets you need. There are no online reservations for this show. No one will call you back about your reservation unless there is a question or concern. After 5 p.m. for same-day viewing, you will need to purchase tickets at the box office.

More information: www.mckeesportlittletheater.com
When the cast of "Dracula, a Musical" takes the stage at McKeesport Little Theater, it will mark only the third run for the show — all at MLT.
Roughly based on the 19th-century novel by Bram Stoker, it premiered on July 9, 1993, a collaborative effort among Carnegie native songwriter/lyricist Paul Michael Brown, his mother Rita Brown, who was the original executive producer, and family friend Al Snyder, who owns a Pittsburgh-based recording and production studio.
The well-received show was performed a second time in the late 1990s, and was to have been the MLT season finale in May 2020.
Read More